Introduction
John Biggins's latest project, A Skimpton Compendium, was published in August 2020. A hilarious take on 1930s Boys Own stories, A Skimpton Compendium was written during Covid lockdown, and is available at most online retailers.
To read more about the book, see Skimpton's website here.
Having studied postgraduate drama at the Sherman Theatre, University College, Cardiff, John Biggins became a professional actor in 1983. Since then, he has worked consistently on stage, television and radio.
A regular in Jack Dee and Pete Sinclair's successful sitcom Lead Balloon - as neighbour Clive Gray - John has appeared in most popular TV series, including EastEnders, Heartbeat, Casualty, Two Pints of Lager, The Bill, The Thick Of It, The Vice and Coronation Street.
John has also been a regular in a number of other series over the years: Pobol y Cwm, City Central, The Armando Iannucci Shows, Breakfast Serials. On stage, John has toured extensively with Hull Truck and appeared at many leading regional repertory theatres, as well as in London.
John completed six-month contract with the BBC Radio Drama Company in 2010, a stint which saw him appearing in a dazzling array of guises in many radio dramas and comedy shows, notably Plantaganet, Bullitt, Fair Stood The Wind For France, The Adventures of Sherlock Holmes, The Honourable Schoolboy and Roald Dahl's Matilda.
John's recent work has included Sky's Touch of Cloth,
ITV's Lewis, Tommy Cooper, and Coronation Street where he played the Editor of Lancashire Leisure Magazine, Leonard Mathers (pictured below). In 2013 he appeared in Simon Stephens's play Port (right) at the National Theatre, directed by Marianne Elliot.
In 2015/16, John again appeared in a National Theatre production directed by Marianne Elliot, playing John Carlin (pictured left) in DH Lawrence's Husbands and Sons, adapted by Ben Power. The production toured to Manchester's Royal Exchange Theatre until March 2016.
More recently, John appeared at Theatre 503 in Battersea, London, playing Bob (pictured right) in Michael McLean's new play Years of Sunlight.
Earlier this year, John took part in UK Gold's star-studded revival of Dad's Army, featuring three episodes lost by the BBC. To be aired in 2019, Frazer's Stripes features John as verger Maurice Yeatman (below).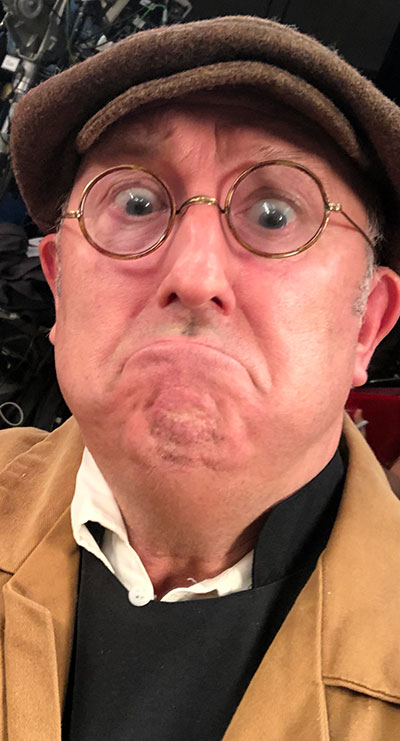 Above: John appears as Leonard Mathers in ITV's Coronation Street (2011)
Before becoming an actor, John trained to degree level in graphics, and his design company aerta creative boasts scores of clients for whom he produces eyecatching designs for web and print.
John has also worked as a theatre critic and scriptwriter, having written scripts for BBC television and radio, as well as the Children's Channel on cable/Sky.
John Biggins lives in London, where he sings tenor with the chamber choir Collegium Musicum of London, a choral group which performs a varied repertoire of work in prestigious London venues.


website last updated: October 2020